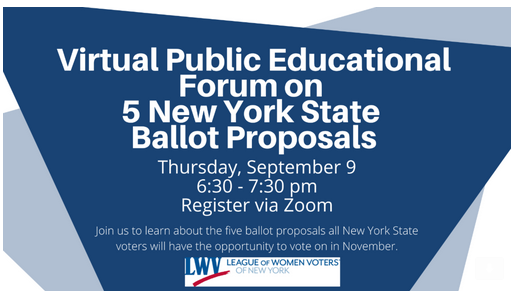 FIVE NYS Ballot Propositions
Join the League, Environmental Advocates New York, and VoteEarlyNY for a webinar discussing the five ballot propositions all New York State voters will have the opportunity to vote on in November.
The five propositions include:
Amending the Apportionment and Redistricting Process
Right to Clean Air, Clean Water, and a Healthful Environment
Eliminating Ten-Day-Advance Voter Registration Requirement
Authorizing No-Excuse Absentee Ballot Voting
Increasing the Jurisdiction of the New York City Civil Court 
Our expert speakers will describe what the proposals will change in our New York State Constitution and discuss pros and cons for each. This event is open to the public so feel free to share with any interested New Yorkers!